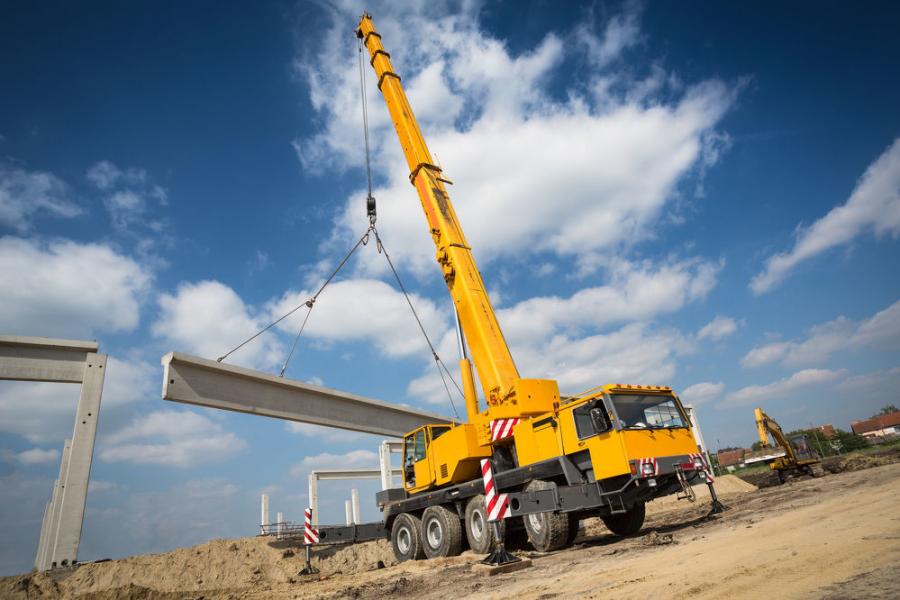 Telematics products have proven to be excellent tools for construction crane fleet asset management — when users effectively maximize the return on their investment. Though technology adoption is high, functionality is low because crane owners are only skimming the surface of what these systems can do. One problem may be the mistaken belief that aging staff is electronically-challenged, but telematics providers say 2020 is the year they'll open eyes to the efficiencies crane fleet management solutions can offer.
One major trend that Teletrac Navman anticipates will dominate 2020 is increased telematics utilization. The company's 2019 Construction Benchmark report found that while overall adoption is at a high of 90 percent vs. 79 percent in 2018, overall functionality is low. Companies are using an average of three of 12 tested features, only, said Adrian Duigan, product manager of the Garden Grove, Calif.-based telematics solutions provider. "Additionally, while half of telematics users agree the technology improves jobsite performance, fewer are able to quantify its impact," he noted.
Talmage Wagstaff, CEO of Provo, Utah, cloud-based app developer REDLIST, said his customers talk about how their workforces are too old-school to learn to use asset-management technology. Though they're eager to transition to digitizing operations, they believe their staff is just too old to adopt new skills. But he downplays that concern: "The reality is, everybody's been trained already with personal devices, and there really isn't any learning curve anymore for software," said Wagstaff.
Further, his staff has found that it has nothing to do with age.
"The best adopters correlate with the company's best employees," Wagstaff pointed out. "If they have a good crane operator, he might be 60 years old, but he's usually the best user of the software, too."
Wagstaff finds that as critical as the utilization issue is his customers' desire to have their individual equipment management systems communicate with each other. They aren't necessarily looking for one system to do everything, he said, but they do want data to transfer from one platform to another. In the tech world, the term is Application Programming Interface, or API. Everybody's looking for cloud-based tools that have API features and can share data among different technologies that allow them to operate more efficiently, he explained.
"Right now companies run asset management operations with silos within their own business," said Wagstaff. "The back-office guys use one tool, but then they have to upload that data to a maintenance tool so the maintenance guys can understand that app. People are trying to tie the various systems together for the sake of efficiency so everybody has the info they need and not silos within their business."
Using Asset Management Tools
Both crane rental companies and end users are making a major push to unify the process from the sales estimate to the accounting invoice without having to enter the order more than once, said Wagstaff. And all of this in the same platform designed to offer a process that's as streamlined as possible. Because throughout the crane job so many people touch information related to it, a lot of companies are entering the same data multiple times in different systems. Eliminating that duplication of efforts is the challenge, he said, and his team has developed features in their tracking product to overcome the challenge so a salesperson can schedule a job and create an estimate.
With this tool, planning and dispatch can take the estimate and assign resources, people and equipment, to it. From there, dispatch will communicate the task to the field team that has to do the work. Then the field team executes work orders and gets the customer to agree to the work performed. That field team has to turn their document back in to the office, where the controller or sales team takes on the back-office approval process. Once that's approved, the document goes to accounting and into the accounts receivable system.
It can be complicated, said Wagstaff, but "we facilitate the process digitally on the same platform so everyone can touch the data when they need to without having to take it out of the system, modify it and put it back in."
That usually means for the field team the platform has to be available on an app via laptop, the Internet, cell phone or a tablet.
"It's quite a challenge technologically to keep everything in sync with multiple locations and variables between office and field," he said. "So it almost has to be available on any device. You've got a platform in the office, an app in the field and everybody's working on same data set, syncing in real time."
Crane owners and end users like that they can use an asset management system like REDLIST from any device. It's much more efficient for them to enter the info once at the front end and pass it though a pipeline. Wagstaff believes it will save a company money and give them a return on investment in simply not having to pass the paper down the line.
"The real savings come from nothing slipping through the cracks," he said. "When you don't have lost paperwork, you can enter the data much faster, and you get money from processing the invoice that much sooner. Where typically you might see a one- to two-week lag to get the paper work back just to invoice the customer, when you've gained an extra three weeks on the money you're processing, it can add a lot of dollars to your bottom line, on top of the efficiencies in getting paid faster for your crane work."
Duigan of Teletrac Navman observed that most construction companies use telematics to monitor the physical location of their assets. The company's Construction Benchmark report found 73 percent of companies use telematics for equipment tracking, while 55 percent use the technology to monitor machines for speed. In fact, 52 percent of survey respondents cited peace of mind, in knowing where equipment is on a job site, as the top benefit of telematics.
"This GPS tracking technology is especially important for mobile cranes, which more freely move around job sites and over the road," he said. "Knowing the exact location of cranes at any given minute also has a unique benefit — helping companies find stolen equipment, which is cited as one of the biggest security concerns construction executives have."
Taking It Into the Office
Beyond asset tracking, construction companies can see the benefits of telematics in everything from improved utilization and decreased fuel spent, to more efficient maintenance, Duigan continued. He said survey data shows that three in five companies who monitor fuel usage have decreased their consumption by 13 percent on average. Implementation and regular usage of asset tracking tools has opened customers' eyes, he said.
In fact, Teletrac Navman conducts customer interviews to learn where the company can improve its products "and where there are needs that customers want to address," said Duigan. "This drives our development and innovation programs. Compliance and safety management are two key areas we are working on. Customers want to track safety alerts and ensure that they are reporting incidents in line with local work health and safety laws. Putting this onto mobile devices makes it easier for teams to take action, address issues quickly and collaborate more efficiently."
Ancillary asset management is another key focus area for Teletrac Navman product developers. Customers want to keep track of a wide range of smaller, unpowered assets, such as tools and equipment. To enable location of these types of assets, keep track of who is using them and raise alerts if assets move outside of work hours or go missing, the company is launching new tracking sensors. Duigan encourages construction companies to work with their solutions provider to help realize ROI. A telematics provider can help a customer "examine operations and uncover new use cases where GPS tracking can directly improve the bottom line and show impact," he said.
Integrating back-office personnel tasks into a workflow function is on the drawing board for REDLIST. Enhancements to the program would allow the field team to track their timecards for payroll and the safety manager to set up a required set of safety compliances based on what work types are going to have to be done. Any time someone uses a crane, they could complete a safety assessment digital form before they climb into the cab. And when the salesperson enters the crane job into the system, it already knows the expectations for the safety manager for that work. The field guy will be prompted by the app, which will notify him that the manager expects a safety assessment and toolbox talk to take place.
"It boosts compliance and safety," said Wagstaff. "The customer can set it up so that the employee can't submit his timecard until all his ducks are in a row."
REDLIST has realized that when a customer turns on that feature for processing payroll with compliance, he or she gets a 75 percent increase in compliance. "One customer who tracked it closely found that statistic," he said.
Another feature REDLIST's product developers are working on is a pricing optimizer. Like residential service providers who offer a window of time for service calls, the crane company using the asset tracking solution would train their customers to work inside a rental company's schedule.
"We're creating an external webpage so if the customer needed to order a crane, he'd login online like booking service to your home," Wagstaff said.
The customer needs a 100-ton crane this Wednesday at 10 a.m.? He plugs those parameters into the webpage, which would then give him options: He could confirm the time he wanted or, much like airlines do now, save money by renting when it's ideal for the crane company.
"We're helping train the customer to work into the crane company's schedule instead of the crane company working around the customer," said Wagstaff. "One, it will smooth out the crane scheduling process because customers will naturally choose the cranes available at the time they sign onto the website. That makes it easier for the crane company to perform the work.
"Two, right now crane companies don't get paid any more money when they get called on short notice. With this feature, if a customer had an emergency, he would log into system, book the crane for tonight and learn it might cost him a little extra" for on-demand response.
The third benefit can be seen in creating more loyal customers.
"That's a huge thing for crane companies," said Wagstaff. "This type of experience will allow them to create a rewards model like with airline flights. The customer gets a frequent user number, earns VIP access to the crane rental portal and gets reward points for being loyal to that company over time."
Doing More, Better
In 2016, the benefits of telematics for heavy equipment companies were field-focused. One asset management solution provider touted the ability to track machine location and fuel usage; schedule equipment maintenance intervals; and monitor equipment personnel activity in the field as selling points for integrating telematics into equipment rental operations. Today's version of asset monitoring solutions goes further. With an eye on back-office tasks, they're streamlining not only equipment utilization but the project pipeline CQ