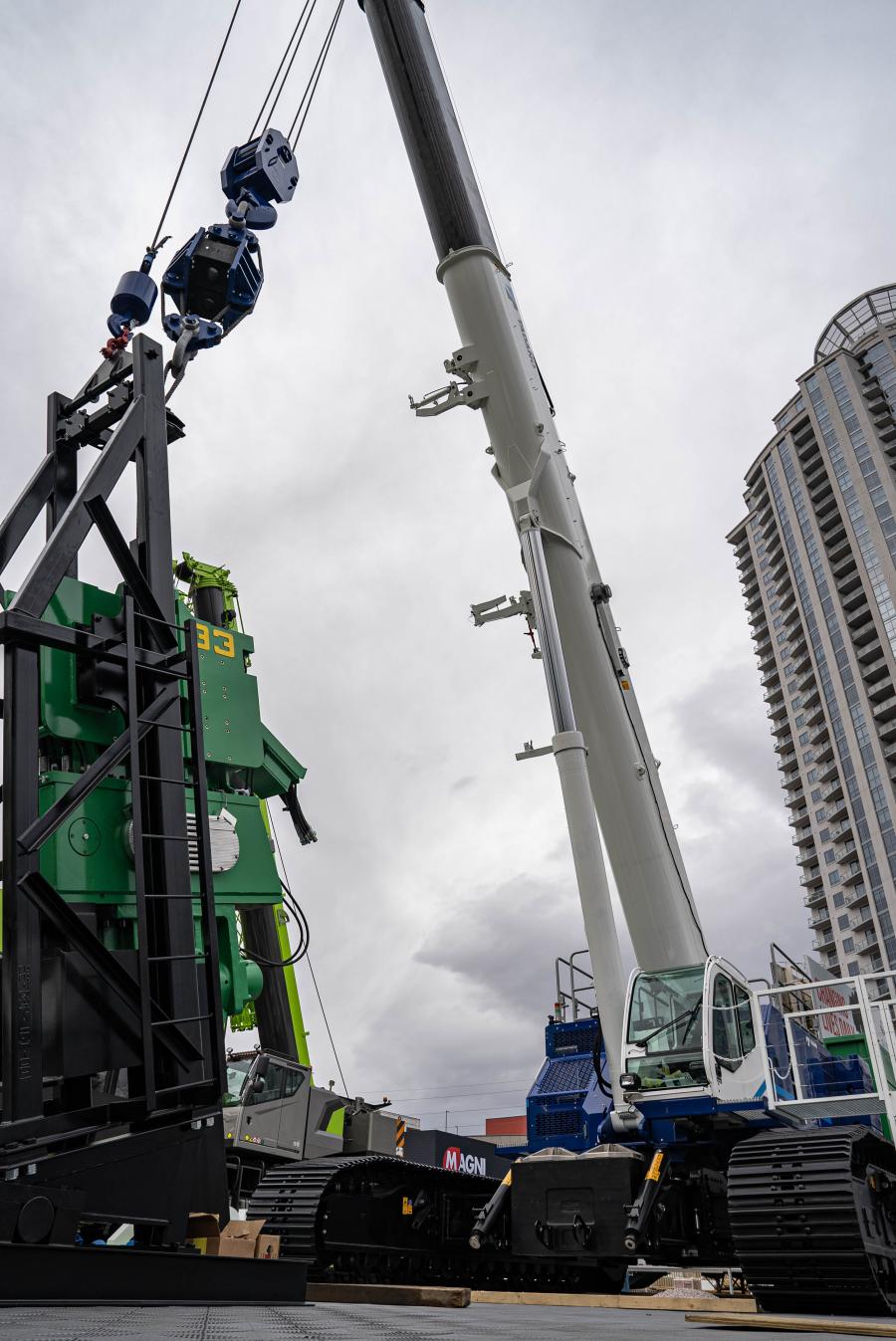 Thu March 30, 2023
Tadano
Tadano spotlighted three GTC Series telescopic boom crawler crane models offering 130- to 172-ton capacities at ConExpo 2023.
Self-rigging at the job site, the GTC-2000 — the latest model in the line — GTC-1600 and GTC-1300 cranes are renowned for fast set-up times, reducing site preparation to fully operate and flexible load charts that take advantage of the crane's full lifting potential.
New for the GTC-1300, Tadano featured its optional third winch capability with optional power pack that increases operational flexibility.
A first for telescopic boom crawler cranes, Tadano combines the third winch for the GTC-1300 with an available power pack for unyielding flexibility, power and performance, the manufacturer said.
The third winch — a "game-changer" for completing infrastructure projects — features controlled free-fall, critical in piledriving applications. It increases the cranes' flexibility, and customers can order the winch with third-party swinging/hanging or fixed leads for controlling a range of tools.
The winch's new optional power pack is fully self-contained, complete with diesel engine, hydraulic pump and tank. Tadano engineers have integrated the power pack into the crane counterweight design with it replacing a counterweight stack when needed. This affords GTC models the unique ability to maintain forward and rear stability when using the third winch, increasing safety.
Time-, Money-Saving Features
Further integrating the OneTadano concept, Tadano GTC cranes now have a global common model nomenclature throughout the line. Their hydraulically telescoping design delivers rapid deployment and quick set-up at the job site.
Hydraulically operated outriggers raise the base crane's height to allow low-bed trailers to simply drive under the carrier and transport it to the jobsite. Once on site, the crane self-rigs the crawlers, central ballast and counterweight stacks without an assist crane – providing for an easy and efficient setup.
While traditional crane designs must operate on ground leveled to within 0.5 degrees, Tadano GTC models can accommodate terrain inclines of up to 4.0 degrees.
For pick-and-carry applications, customers do not have to prep the entire site if it falls to within 4.0 degrees of level. The cranes operate with out-of-level terrain to the front, rear or side, saving customers considerable time and money for site preparation. Eliminating manual track-frame pinning and fixed-width positions, Tadano OPTI-WIDTH delivers limitless combinations of symmetrical and asymmetrical track width configurations, the manufacturer said.
The GTC-2000 combines OPTI-WIDTH with IC-1 Plus controls, which calculates crane lifting capacity for every position, based on the superstructure's slewing angle and ground inclination. This offers advantages when tracks cannot be fully deployed or are configured in asymmetric positions, as IC-1 Plus bases lifting capacity on a real-time determination of radius and does not limit capacity to the lowest precalculated value of a 360-degree load chart. Rapid reaction of the IC-1 Plus system slows crane movements before automatic shutdown to prevent overload situations.
For more information, visit www.tadano.com.